Research and Innovation
Outfitting the Future
Wearable technology is about more than smartwatches or counting steps. Across NC State, researchers are using it to solve problems — monitoring heart rate and environmental dangers, powering electronic devices, delivering medications, building better prosthetics and improving safety.
They're developing technologies that are functional, efficient, innovative and practical, and that could have an impact on countless lives.
Here are a few of the NC State projects at the forefront of this evolving field.
What's NEXT in Wearables
What if the clothes you already wear not only covered your body but also kept track of how it's functioning — and all you had to do was put them on?
Finding innovative, useful and economical ways to integrate electronics into clothing is the mission of the College of Textiles' Nano-Extended Textiles (NEXT) Research Group.
Headed by Jesse Jur, assistant professor in the Department of Textile Engineering, Chemistry and Science, the NEXT group seeks to create cost-effective, energy-efficient wearable technology that's powered by the user's own body.
Jur's team has gained attention for projects like customizable, iron-on sensors that monitor the heart's performance and transmit the readings to a smartphone, or that monitor environmental levels of potentially dangerous gases like carbon monoxide and ozone.
The NEXT group has also explored bioluminescence in fashion through a collaboration with recent College of Textiles graduate Jazsalyn McNeil, who joined the group as a "fusion designer" to meld her design sensibility with the group's research. McNeil's Pulse Dress incorporates screen-printed sensors that make LED lights blink with the wearer's heartbeat. NEXT and McNeil hope that the eye-catching dress will both influence fashion and draw attention to the possibilities of wearable electronics.
Heating Up Wearable Tech
In recent years, smartwatches have turned up on the arms of millions of people who want convenient ways to keep track of their fitness, but these still depend on conventional batteries. At NC State's Center for Advanced Self-Powered Systems of Integrated Sensors and Technologies (ASSIST) — a National Science Foundation Nanosystems Engineering Research Center — researchers are developing innovative health-monitoring devices that are battery-free and body-powered.
"The goal of ASSIST is to make wearable technologies that can be used for long-term health monitoring, such as devices that track heart health or monitor physical and environmental variables to predict and prevent asthma attacks," said Daryoosh Vashaee, an associate professor of electrical and computer engineering in the NC State College of Engineering.
Vashaee and a team of undergraduates and faculty members have developed a new approach for harvesting body heat and converting it into electricity to power wearable electronics. The prototype armbands and embedded sensors in T-shirts are lightweight, conform to the shape of the body and can generate far more electricity than previous lightweight heat-harvesting technologies.
"We want to make devices that don't rely on batteries," Vashaee said. "And we think this design and prototype moves us much closer to making that a reality."
Taking the Sting Out of Diabetes
For some people with serious health issues, wearable technology has the potential to offer more than bells and whistles — it could make their treatments easier and even save lives.
Zhen Gu, an associate professor in the UNC/NC State Joint Department of Biomedical Engineering, has developed a glucose-responsive insulin patch for people living with Type 1 Diabetes. At around the size of a penny, the thin, square patch contains more than a hundred tiny, painless needles that supply the wearer with insulin as needed. This potential treatment could help to ensure consistent blood-sugar levels — and spare patients regular injections.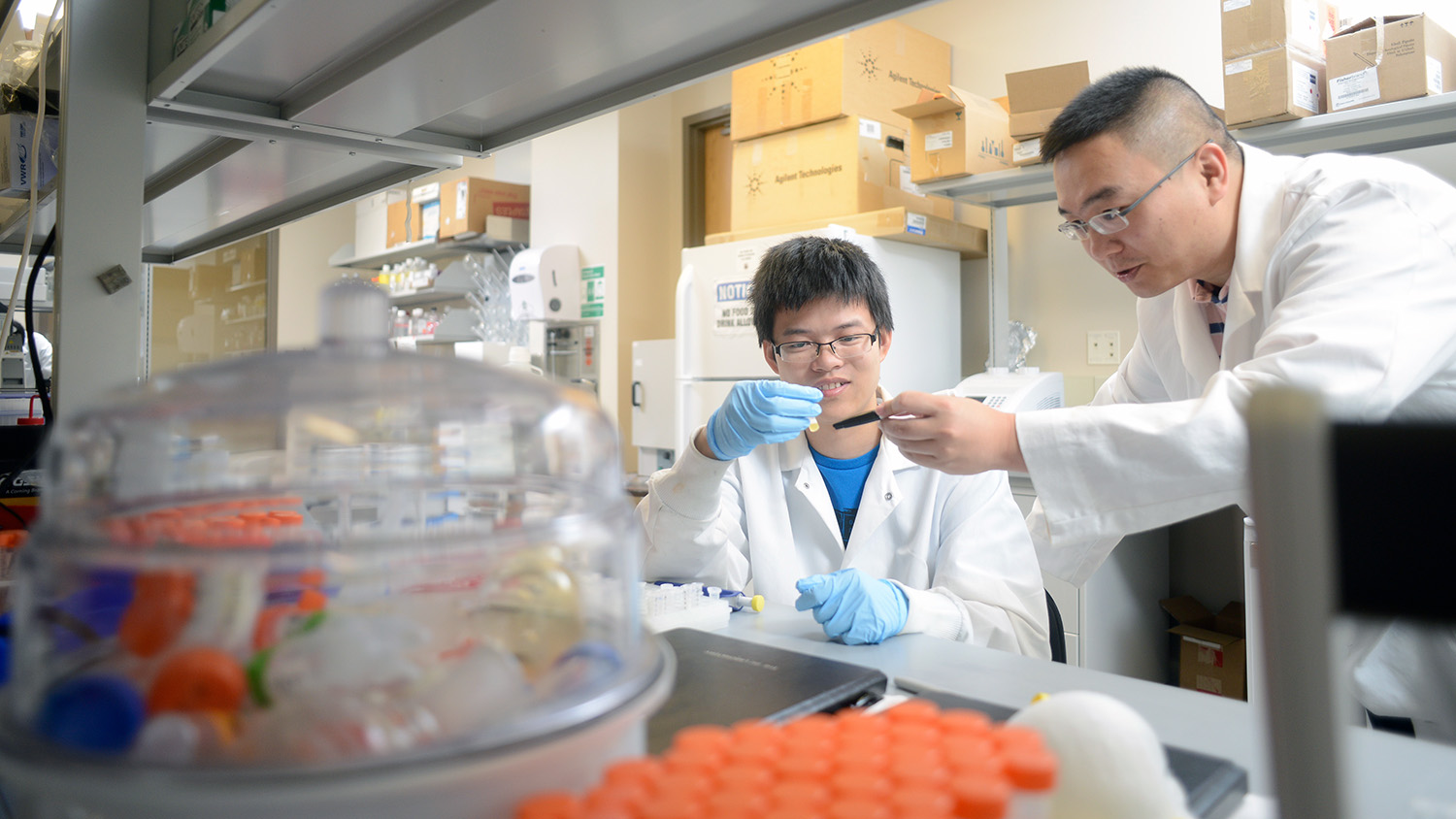 Gu, who has been honored as one of MIT Technology Review's "Innovators Under 35" for his work with innovative drug-delivery systems, received $4.6 million in funding from JDRF (formerly the Juvenile Diabetes Research Foundation) and multinational pharmaceutical company Sanofi for the project. The patch is currently in animal trials. Gu is also working on patches to deliver melanoma drugs directly to tumor sites and to deliver blood thinners as needed to prevent blood clots.
Walking Wearables
Amputees have always been among the earliest adopters of wearable technology, as even minor advances in prosthetics can markedly improve their mobility. Helen Huang, associate professor of biomedical engineering and director of the Rehabilitation Engineering Core in the UNC/NC State Joint Department of Biomedical Engineering, has made it her mission to develop the next generation of powered prosthetic limbs.
Huang's projects include software that allows powered prosthetics to tune themselves automatically, making the devices more responsive and lowering the costs associated with powered prosthetic use.
"People are dynamic — a patient's physical condition may change as he or she becomes accustomed to a prosthetic leg, for example, or they may gain weight," said Huang. "These changes mean the prosthetic needs to be re-tuned, and working with a prosthetist takes time and money."
Huang's team has also worked on technology that translates electrical signals in human muscles into signals that control powered prosthetic limbs — enabling sensors in the prosthetics to follow simple cues from the user's brain such as "open hand" or "close hand."
A Bright Idea for Safety
For College of Textiles alumnus Jeremy Wall, a near miss with a car while he was riding his bike one night became an unexpected source of inspiration: He now heads a company, Lumenus, that's developing clothing and accessories with embedded smart LED lighting.
Wall, a 2014 graduate in fashion and textile management, began working on his tech with the help of an undergraduate research scholarship while he was still a student. His goal was to help cyclists, motorcyclists and runners be more visible to motorists at night while staying stylish and functional during the day.
The company will soon hit the market with apparel and accessories including jackets, vests, leggings, backpacks and armbands. It's also licensing its technology to companies such as backpack manufacturer Timbuk2 and working with the Department of Defense to develop sensors for military gear.
Lumenus has also created an app that adds extra features to the apparel. For example, the wearer can enter a destination on the app, and the LED lights on the garment will flash strategically at intersections or other potentially hazardous points along the route.
Wall recently returned to NC State for help getting his company off the ground, enlisting three College of Textiles undergraduates to work with Lumenus as part of their senior design project.