Events
Rural Setting Fosters Avant-Garde Art Exhibit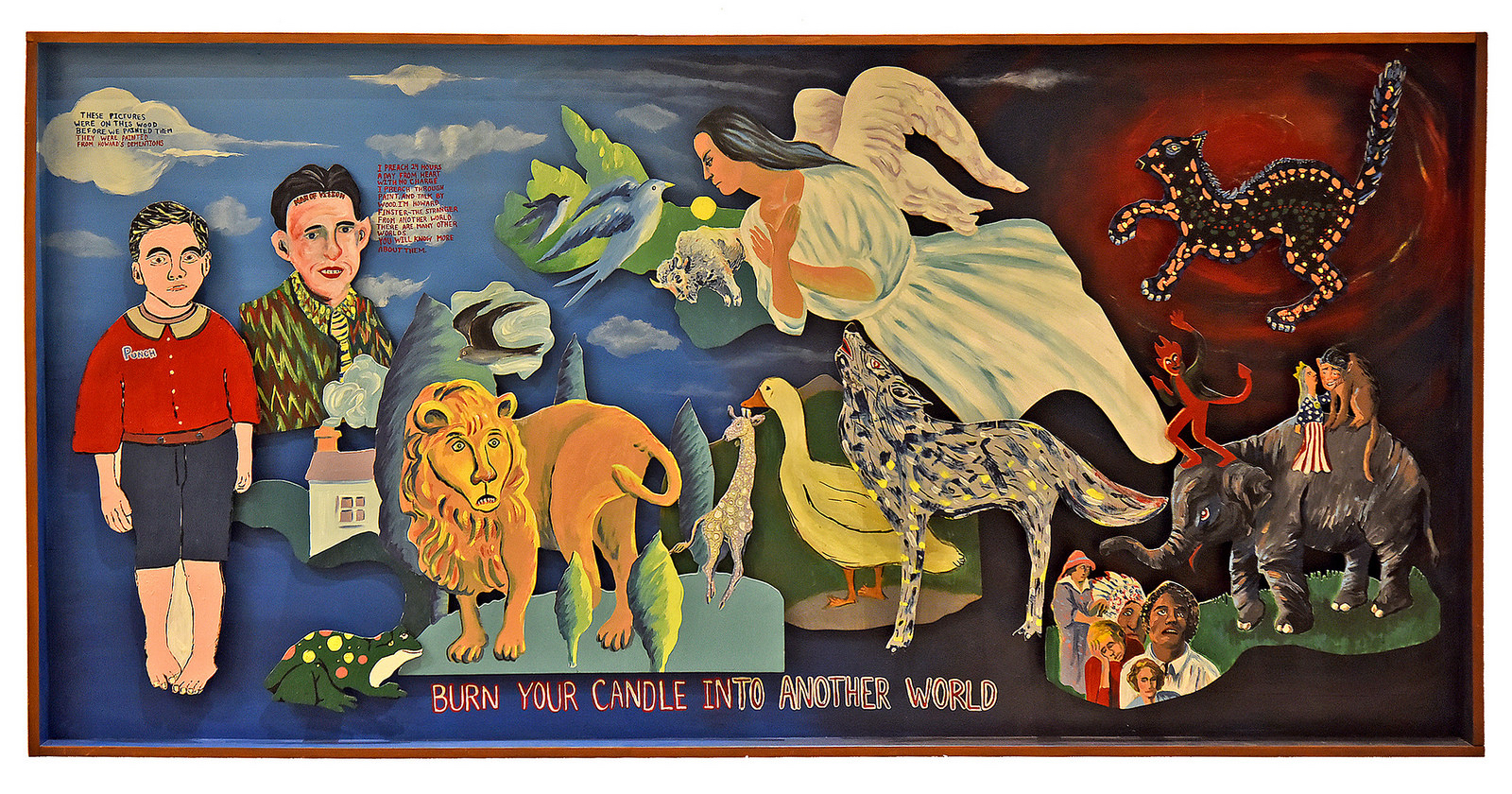 For 35 years, an ever-changing roster of artists — including self-taught painter Howard Finster, composer John Cage, choreographer Merce Cunningham and photographer Sally Mann — has been making the pilgrimage to Mountain Lake Lodge in rural southwest Virginia for an ongoing workshop that explores the possibilities of artistic collaboration and experimentation.
Now a selection of works created in this workshop setting has been collected in Rural Avant-Garde: The Mountain Lake Experience, an exhibition at the Gregg Museum of Art & Design. The exhibit opens with a free public reception Thursday, Aug. 23, at 6 p.m. and will be on display through Dec. 30.
The Mountain Lake Workshop was founded in 1983 by two art professors who invited famous artists to create works in an environment that encourages collaboration. The results of one such collaboration can be seen in Burn Your Candle Into Another World, a piece created under the guidance of Howard Finster, who achieved mainstream fame by painting album covers for the Talking Heads and R.E.M. Finster made art by translating his visions into images that he would then recreate in the form of outline stencils he called "dementions." These stencils could be used to make hundreds of pieces with the same outline but differing in other ways. In Burn Your Candle, the outlined shapes come from Finster's dementions, but other workshop participants painted in the details, such as the angel's robe or the lion's face.
Another characteristic feature of the Mountain Lake Workshop is the way it allowed artists to create work outside their typical genres. For instance, Cage created a piece of visual art by stepping in trays of black ink and then walking across a large sheet of paper while dragging behind him a wide brush saturated in watercolor. Afterward, a workshop participant generated a series of instructions allowing Cage's artwork to be created by others as a piece of performance art, and in 2008 Cunningham oversaw a recreation that resulted in the piece titled Dancers II, which will be shown in the exhibit.
Rural Avant-Garde: The Mountain Lake Experience will also feature works by ceramicist M.C. Richards, street artist James de la Vega, sculptor Jiro Okura and photographer Sally Mann working in collaboration with her daughter, Jessie Mann, and artist Liz Liguori. Click the links in the gallery below to see other works that will be featured in the exhibit.