Athletics
5 Questions With Torry Holt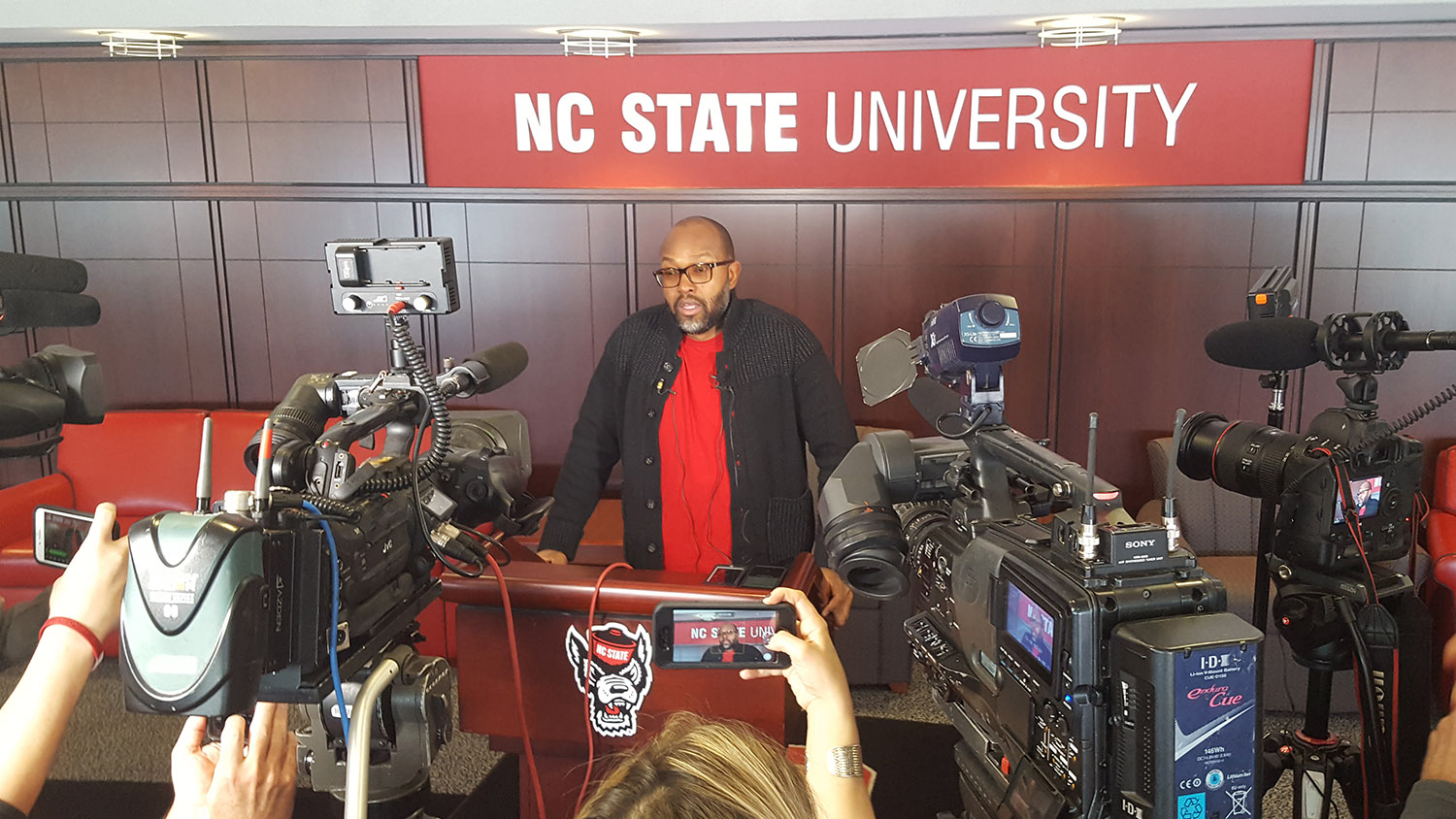 Torry Holt was only a sophomore at NC State when it became inevitable that his mother, Ojetta Holt Shoffner, was nearing the end of her 10-year battle with cancer. Her struggle with the disease defined Holt's preteen and teenage years, even as he became a standout wide receiver for the Wolfpack football team.
That season Holt's younger brother Terrence, who also became a standout defensive player for the Pack, brought their mom to Torry's games at Carter-Finley Stadium, even though her failing eyesight prevented her from seeing her oldest son's gridiron heroics.
"But she could hear," Holt says. "She could hear when they said my name on the loudspeakers. It's why I wanted to make big plays, so she could hear them say my name. That way, she knew I was doing what I loved and that I was going to be OK."
Throughout his college and professional careers, Torry "Big Game" Holt loved competing and winning, whether he was carrying head coach Mike O'Cain's team to the biggest upset in school history over No. 2 Florida State in 1998 or helping the St. Louis Rams win Super Bowl XXXIV in his rookie season.
Monday, Holt was announced as one of the 13 players and two coaches included in the National Football Foundation's 2019 class of the College Football Hall of Fame. Holt is one of only six former Wolfpack players to earn that national distinction.
The Gibsonville, North Carolina, native credits his decision to attend NC State — one of the first schools to recruit him to play football and one of the few that stuck by its commitment to him as he went to prep school to improve his academics — as one of the keys to both his football and post-football success. He's now one of the co-owners and the vice president of Holt Brothers Inc., a downtown Raleigh-based company that includes commercial real estate, development, a summer football youth camp and a charitable foundation designed to help kids whose parents have been diagnosed with cancer.
Here are five quick questions with the former consensus All-America and NFL All-Pro wide receiver.
Why did you decide to come to NC State to play football, given some of the other schools that were recruiting you after a year at Hargrave Military Academy?
When I went to Hargrave from high school because I didn't initially qualify academically, NC State stuck with me, even though I had Tennessee, [North] Carolina, Virginia Tech, Syracuse, Notre Dame all coming after me. I got my grades and my studies on point so that I could enroll at NC State. For me, it was about staying committed to those that were committed to me. NC State showed me a tremendous amount of loyalty and I wanted to return that loyalty. Plus, I wanted to be here in the area near my mother and so my family could see me play.
You've talked about the struggle you had as a young kid and as a college student dealing with your mom's illness, one of the main reasons you and Terrence now have the Holt Brothers Foundation to help children of adults with cancer. How did NC State help you through the tough times you had during her illness and after her death?
When she passed away (Dec. 27, 1996), we went right back into winter workouts. It was the perfect thing to help me keep my mind off of it. I remember Coach O'Cain and Coach [Robbie] Caldwell asking me every day if I was OK. At the time, being a college kid, I didn't know if I was OK. I thought I was, but I had football to help me. My mom knew I would be OK if I had that, as long as I was able to do that. I don't know if I would have handled it as well without football, but having my NC State family, coaches and teammates made it all OK. And that's what we hope to create with the Holt Brothers Foundation, a place for kids to understand what is happening to their family.
Do you have a favorite memory of your time at NC State?
Of course, when we beat Florida State here at Carter-Finley Stadium [24-7, in which Holt made a 68-yard punt return for a touchdown and a 63-yard touchdown reception]. The stands that day were a sea of red. They bombed us at first [scoring on the first play from scrimmage], and a lot of guys were starting to think it was going to be the same-old, same-old. But I wasn't worried. We had played well against them the year before [Holt set a school record and a record for a Florida State opponent with five touchdown passes in that 48-35 loss], and I knew we could compete even though they had beaten us so many times before. The whole game was incredible. We won that game collectively: offense, defense and special teams. Everybody contributed to it. That's what made it special. It wasn't just one person who made that win possible. Then to see people leave their homes to get to Carter-Finley to help us celebrate, to come to Hillsborough Street to join the party, to have the whole university, the entire city, be overwhelmed by it – the moment was just incredible.
How did your time at NC State shape you as a player and a person?
It helped a lot. We had to scrape and claw here, battle and fight for every win we got. We left some out on the field, but it taught me how to work hard every day. We weren't a team that could just turn the lights on and go out and win. We had to work and study and grind and compete. You had to have the mindset to win. Outside the game of football, I learned a lot while I was here. I'm still learning now that I live here with my family, and I'm still leaning on the school for advice on how to be successful. I'm proud to be part of a great tradition here at NC State.
While you have been successful as both a professional football player, a business owner and the founder of a charitable foundation, have you thought about returning to school to complete your degree in sociology?
It has been on my mind a lot. Now that my son Brayden, who I have coached the last four years [at Heritage High School in Wake Forest] is done with high school football, I will have some more time. I've been thinking about when I want to go back to school. He would like to come to NC State and study engineering. My wife said I should think about taking some classes with him next year. That might be the kind of competition I need to get it done. It would be really cool if I could complete my degree here.