We Are the Wolfpack
Meet Randy Lait
The food service trailblazer elevates NC State Dining — winning the industry's top honor along the way — through ingenuity, determination, a little elbow grease and the help of an 'amazing, hard-working' staff.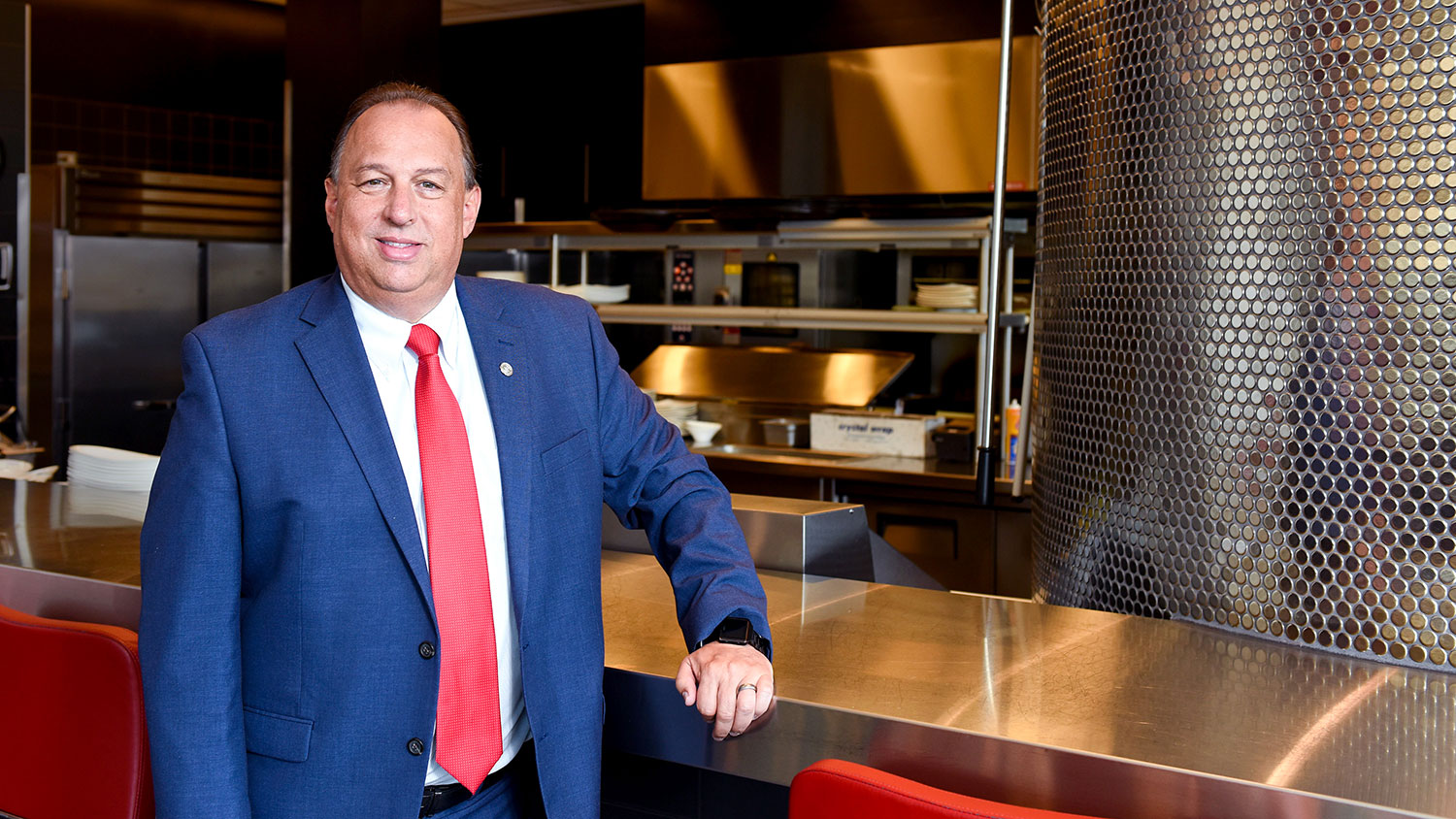 As Randy Lait took his first steps down the red carpet to accept the prestigious Silver Plate Award from the International Foodservice Manufacturers Association, his stomach tied up in knots. He says he felt "crazy nervous," especially when the announcer called him by the wrong name more than once.
Then the audience started chanting his (correct) name and cheering him on.
"That's when I knew I could relax," he says with a little laugh.
The Silver Plate is the highest honor bestowed on individuals in the foodservice industry, and Lait says he'll never forget the moment it was placed into his hands.
He has dedicated his entire career to NC State, revolutionizing the university's dining program. Receiving the award is the "perfect capstone," he says, as he leaves NC State Dining to venture into a new leadership position with Campus Enterprises.
Read on to learn more about Lait and his self-described "crooked path" to success (that once involved turkey-wrangling).
How did you end up at NC State?
I grew up in Sampson County, in a little town called Newton Grove, North Carolina. When I was 17, I had a choice between being in a nuclear submarine for the Navy or going to college. I came to Raleigh and took the Navy's tests and did everything except the swearing in. I went back home to think it over, and there was a letter in my mailbox from NC State. I knew that was what I really wanted to do.
Tell us about your time as a student at NC State.
I came in as a 17-year-old freshman to study computer science, but I was not successful as a student. I'm decent with logic, but I'm a terrible typist. In those days you went to the computing center and waited your turn to get to a key punch machine, which used little paper cards that had 80 columns of code. You typed in your line of code and it punched holes in the cards, and so your program turned into a stack of cards. Then it got scanned through a card reader and your program ran, or tried to run.
So I would get my programs back, and they often had errors caused by typos. Each time I would wait in line again to make a replacement card and put it in the right spot, then run it again, but more errors would pop up. It was very frustrating, and I wasn't very good at it, so I let my interests drift from academics. I ended up flunking out. I had never, ever struggled with academics before … but I found myself academically suspended.
What did you do then?
I went back home and worked a summer job. When it came to be fall and all the other college students went back to school, I was still in this factory stapling boxes. I knew I'd made a terrible mistake. Two months later I received another letter from NC State that said they had changed the suspension-retention policy and that I had barely enough credits to get back into school. I came back to Raleigh and tried a lot harder in a new field of study. I ended up graduating in December 1983 with degrees in economics and business management.
How did you end up in food service?
When I came back to NC State, I needed a job, and Dining needed someone to ride with the courier. We had a guy who drove around in a little Chevy Chevette and picked up the money from the locations. I sat in the car and made sure that no one drove off or did anything with the money. It was an easy job, but as time went on, they gave me more things to do. Soon enough, anytime I wasn't in class, I was working for Dining. Sometimes I was buying parts for a refrigerator and other times I was delivering bread. Once I had to feed and take care of live turkeys for a Thanksgiving event. That was an interesting experience, to say the least.
I was fortunate to have opportunities to do lots of different things, and I eventually became part of the NC State Dining team. Then, the manager at the Atrium left and that position opened up. I applied for it, and that was my first permanent job at NC State, which started in February 1984.
So you've spent your entire career at NC State?
Yes. I ran the Atrium for a couple of years. Then I moved over to Talley Student Union, where I was in charge of catering food production. I learned a lot doing that, like how to buy food in the right quantities and about new foods and service. I learned from some really hard-working people. Then I was the business manager for Dining for a long time. That's where I learned about handling finances, meal plans, rules and regulations, and how the administrative part of the university works.
I became director of NC State Dining about 10 years ago. A couple of years after that, there was a big reorganization that resulted in the creation of Campus Enterprises. We had been part of Student Affairs up to that point, so it was a big change. There was a sense that we needed to reach higher as a department. What started out as being a little bit scary turned into such a great opportunity for our dining program to grow and improve. I became the senior director of hospitality services and did that for about nine years. I recently took on the new position of senior director of administrative services for Campus Enterprises.
What will your new responsibilities be?
In my new role as senior director of administrative services, I am responsible for financial management, budgeting, accounting, human resources, IT and marketing and communications for Campus Enterprises. I'm getting the opportunity to learn about other units besides Dining, and I'm looking for ways to help them be successful.
Is it hard for you to leave Dining?
Of course it is, but it was an opportunity and a choice I made. I've been working in Dining since I was 18 years old, so that's 40 years. The folks in Dining will always be close to my heart. I will always cherish the time I've spent with these amazing, hard-working people. They are my NC State family. We've done some great things, but it's time for me to try something new. It's also time for them to continue onward and upward.
Winning the Silver Plate is certainly an impressive way to go out.
For me it was perfect. It came at a really good time because it's kind of a capstone. I'm really proud of all that we've accomplished. My success and the success of NC State Dining are so intertwined. I could not have received this award without the support and hard work of the people here.
What are you most proud of in your career so far?
One of the things I'm most proud of is how we completely transformed the dining program here. We built the Oval at Centennial Campus, opened new food service venues in Talley Student Union, and completely overhauled our catering operation. We went from having one trained chef on our campus to having 26. We now have about 40 operations. A few of these are Chick-Fil-A and Port City Java, as well as brands that we developed, like Los Lobos and Tuffy's Diner. We created the concepts and recipes for those. I think we opened a dozen new units in 12 months.
We were part of the first cohort of schools that joined the Partnership for a Healthier America Healthy Colleges Initiative. It's a program that Michelle Obama designed to bring healthy foods into K-12 schools. They extended the program into colleges and universities, and we had three years to meet a certain number of criteria and have it independently verified by a third party to join the program. We were able to do it in nine months. In fact, we were the first to meet this goal, and for a long time NC State was the only university that had been able to do it. That's a byproduct of that time of innovation when we really changed the culinary program here.
We also have an excellent dietitian here at NC State, Lisa Eberhart, who's leading a new effort around food transparency to help students know exactly what's in their food. Transparency has become especially important with the prevalence of food allergies. We mark foods down to the ingredient level and make the information easy for students to access on menu display boards, nutrition kiosks, the campus mobile app and our website.
Food Management Magazine named NC State Dining the College Innovator of the Year in 2015. I'm really proud of that. I always remind people that it's great to have accolades and rewards, but we still have our days when we burn the toast.
Tell us about some of the partnerships you've developed along the way.
One of the things we did was create the "My Roots Are in NC State" program, which connects the dots between the foods we use in the dining halls to local farms. Almost 30% of the foods we're using are locally sourced and often from people who graduated from NC State.
We also partnered with the Agroecology Education Unit in CALS. Our chefs go out and help coordinate what's planted there and use the bounty from the farm back on campus. We also have a great relationship with Howling Cow. All the milk and ice cream in the dining halls is from our campus dairy.
I'm really proud of the new PACK Meal Share program that we developed in a partnership with student government. Through the program, students can donate leftover guest meals from their meal plans at the end of each semester. These meals go into a pool of meals that are allocated to students who go through the Pack Essentials program. We got it off the ground just in time to help students affected by Hurricane Florence and the government shutdown.
Student well-being seems to be at the heart of all you do. Why is that?
I still remember that 17-year-old who came to NC State to find his path in life. I know some of the challenges our students face and want to do all I can to help them be successful here and in life. I've been fortunate to be a student here … to experience academic difficulty and then success, to become an employee and then part of the administration, and to have two daughters of my own attend and graduate. NC State has given me so many opportunities. I owe it to those who attend and work here to do the same for them to the best of my ability.
I'm grateful for all that NC State has given me, and I hope my work here has made NC State's investment in me a good one.