Resilient Pack
Gearing Up
While students were on spring break, staff worked behind the scenes to get faculty the tools they needed to teach remotely.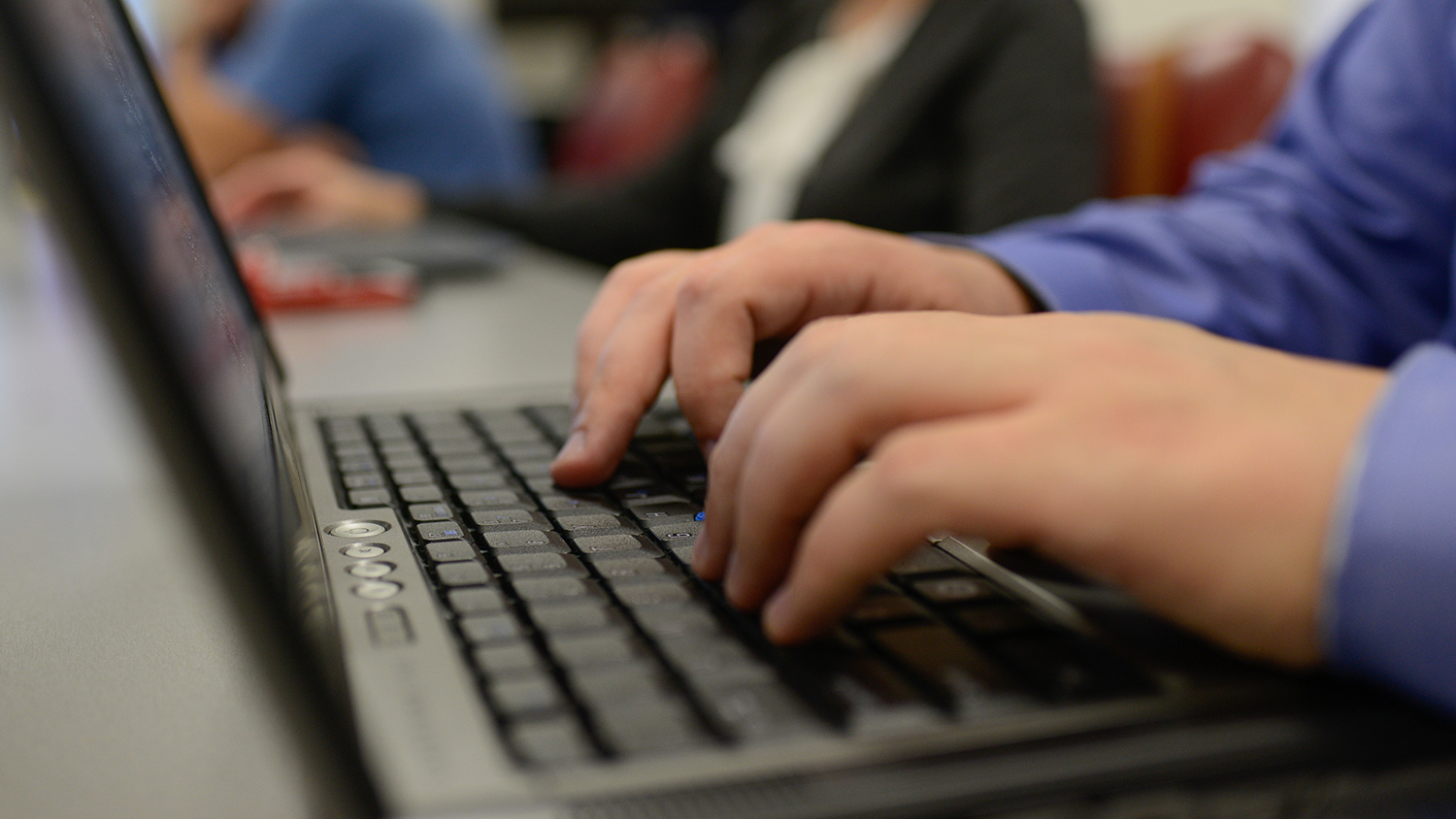 One of the extraordinary things about NC State's response to the coronavirus outbreak is how quickly faculty, staff and students mobilized to shift courses from the classroom to the cloud. But if you had the impression that the move was effortless, think again.
Behind the scenes, technology professionals made a mad dash to purchase and prepare hundreds of laptops, document cameras, webcams, headsets and adapters for faculty members suddenly faced with the prospect of teaching remotely.
Chadwick Seagraves, the desktop support team manager in the Office of Information Technology, was right in the middle of the action. "It was a big group project supporting our core mission, which is to make sure the students are getting their education, even during a global shutdown," he says.
By mid-March, with public health experts warning that a spike in cases could overwhelm the health care system, university officials realized they needed to act quickly to prevent NC State from becoming a coronavirus hot spot.
On March 11, staff from across the university met to chart a path forward. The group included representatives from the Provost's Office, DELTA, OIT and the NC State University Libraries. Their charge: Figure out what faculty members needed to teach their courses remotely, then get those tools into their hands.
Katharine Stewart, vice provost for faculty affairs, says the group was empowered to act decisively. "We had a sense that we were working against time," she says. "Everyone in administration was thinking about how best to support our faculty and students in making this huge change. We were focused on reducing the logistical and resource barriers, and on making sure everyone would have access to the technology they needed."
Marc Hoit, vice chancellor for information technology, and Tom Miller, senior vice provost for academic outreach and entrepreneurship, quickly created an online survey so the heads of academic departments could weigh in with their needs.
"We asked what things they would need to help their faculty do remote instruction, and we got a lot of answers very quickly," Stewart says. "We were moving very fast, so we took those answers and extrapolated from there."
Supply-Chain Strain
In OIT, Seagraves took the list and began reaching out to vendors to place the orders. But the normally simple purchasing process was anything but simple.
"I went to Apple, and they said their supply chain was completely down," he says. "They referred me to another vendor, CDW, that had some preconfigured machines available."
Thankfully, Seagraves was able to leverage his longstanding professional relationships in the industry to work around bottlenecks and other supply-chain issues.
"At nine o'clock at night, I'm talking to our CDW rep in Connecticut, who's quarantined, and we're going over SKUs [product lines] together and he's saying, 'OK, I've got 50 of this, and I've got 20 of that. If you get an order in now, maybe we can do it.'"
Seagraves also worked with Dell, putting in duplicate orders for essential equipment just in case CDW's supply chain went down. And both companies warned about another potential problem: "They said, 'As long as the federal government or some federal agency doesn't swoop in and take these machines out from under you, we can get them to you.'"
Recognizing the tough spot Seagraves was in, Dell agreed to waive its restocking fee if NC State ended up with duplicate items and needed to return them.
By the end of the day, Seagraves had exceeded the budget estimate for the project, but he had ensured that the lion's share of the equipment was on its way to NC State. "It was the longest day I've worked through this entire coronavirus crisis," he says.
Fast Work
But the work was just beginning. As equipment began arriving on campus, Seagraves had to organize a team to make sure vendors had filled the orders correctly and to get all the new equipment entered into the university's inventory system. To make matters worse, Apple had a problem with its warranty enrollment system, resulting in a frustrating delay in getting some equipment into service.
OIT staff also faced the time-consuming process of getting the new laptops set up in the university's managed desktop environment. "You can't just take a machine out of the box and give it to someone," Seagraves says. "You have to prepare it with campus security measures and controls."
In the best of times, the process of setting up more than 200 laptops would have been challenging. In this case, staff members had to get the work done on a tight deadline while maintaining a safe distance between workstations. And they still had to keep up with their normal workload, providing service to thousands of clients on and off campus.
"I immediately put two or three of my team members together to ramp up our operation to see how many machines a day we could crank out," he says. "Some of that is limited by infrastructure — how many data ports we have in the work area."
Team Effort
Meanwhile, staff in the Libraries began gearing up to handle their part of the process: getting laptops and other equipment into the hands of faculty members. Since the Libraries already had a technology lending program for students — run by customer-service staff in its Ask Us unit — it quickly adapted the process to serve faculty through both the Hunt and Hill libraries.
Libraries staff also repurposed hundreds of laptops from their pool of lending and instructional equipment to help meet the need. And they opened their doors to OIT staff, providing them with space to work in collaboration with Libraries staff to streamline the process of preparing and distributing computers and other equipment.
Staff in DELTA provided additional support to help faculty members successfully transition to remote instruction.
Looking back, Seagraves credits hardworking staff across the university with moving mountains — or at least mountains of gear — so NC State students could finish their coursework in the spring semester with as little disruption as possible.
"Honestly, I got pretty stressed," he says. "As a manager you do the math. How do I make this happen in a short time frame with the staff and resources I've got? But the teams worked so well together.
"It was my staff. It was the folks in the mailroom who made it a priority to help us. It was the people in the warehouse who made sure boxes got delivered to the right place. It was the people at the Libraries who handled the logistics and coordination. It was the team in DELTA who provided their expertise. It was a huge Wolfpack effort."