Athletics
A Legacy That Lives On
NC State coaches, alumni and families were on hand as Jim Valvano, legendary coach and founder of the V Foundation for Cancer Research, was inducted into the Naismith Memorial Basketball Hall of Fame.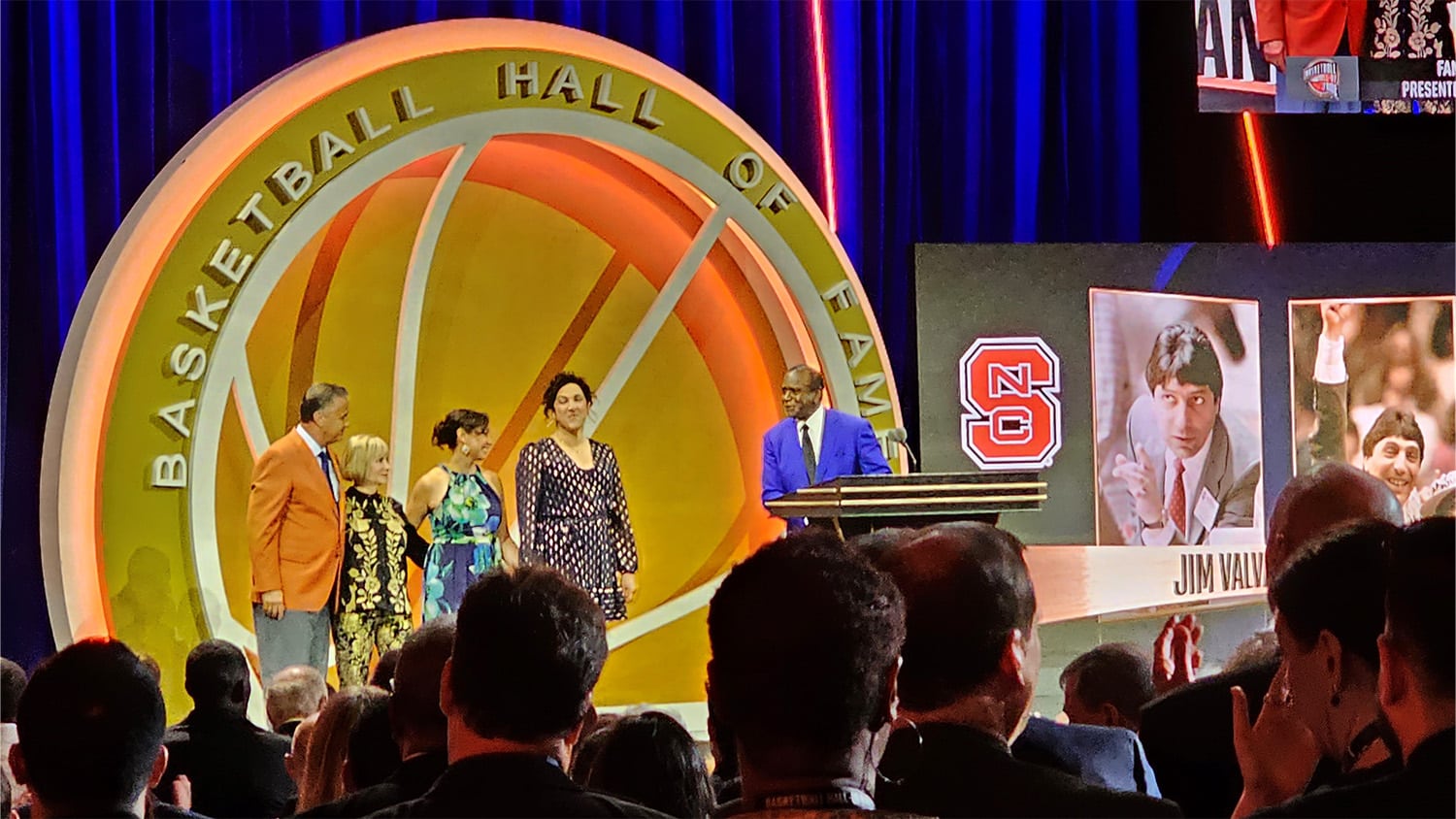 SPRINGFIELD, Massachusetts — Maybe Jim Valvano told the anecdote below from his early coaching days too many times.
Back when he was the 20-something head coach of tiny Iona College, the brutal New York media used to make fun of him for mentioning his story of little Jimmy, the leukemia patient, at every preseason preview luncheon or media tour, but that never stopped the young coach from honing his motivational skills.
Valvano was never shy about overtelling a story, even if it was of questionable veracity.
In the end, 30 years after his death, philanthropic reactions to his motivational stories are at the core of why the late NC State basketball coach was enshrined in the Naismith Memorial Basketball Hall of Fame on Saturday night, along with a superstar class of international players like France's Tony Parker, Germany's Dirk Nowitzki and Spain's Pau Gasol, and several of his coaching contemporaries like Gregg Popovich and Gene Keady.
Valvano was a shooting star of a head coach, but one always at the center of attention. He had only 337 career victories at four schools, among the fewest of any Division I men's coach elected to the Hall of Fame. Yet until the day he died in 1993, he was among the game's most recognizable faces (and noses) as the head coach and lead motivator at Johns Hopkins (1969-70), Bucknell (1972-75), Iona (1975-80) and NC State (1980-90).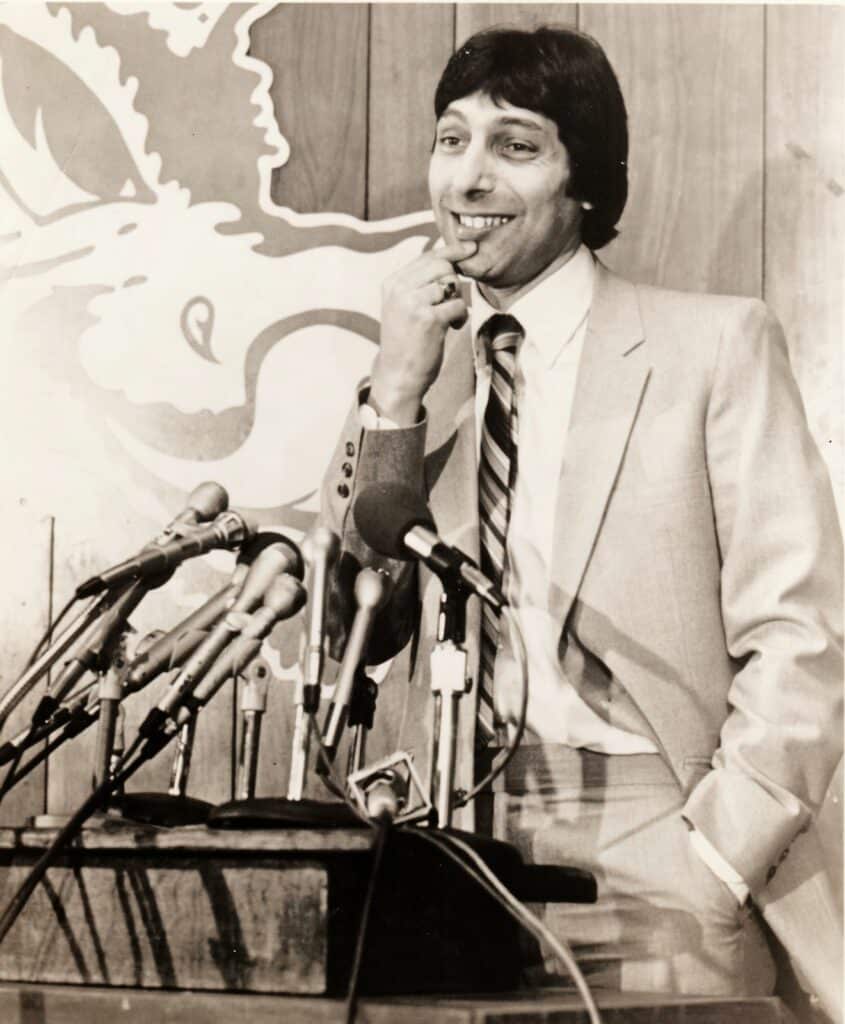 His two Atlantic Coast Conference titles (1983, '87) and the memorable 1983 NCAA Championship are some of the most iconic moments in the storied history of Wolfpack basketball, and he parlayed the notoriety he earned from them into a celebrity coaching career and popular broadcasting career after his tenure as NC State's basketball coach and athletics director ended in 1990.
Still, those were not the best of what Valvano offered to the world of college basketball, the world of athletics and the world of medical research. That came with the fulfillment of what was ostensibly the cancer-stricken coach's dying wish: creation of The V Foundation for Cancer Research.
In its 30 years, the charity that bears his name has raised more than $350 million to fund grants for early-career cancer researchers, including the funds raised at a $2.8 million gala at Reynolds Coliseum earlier this summer.
And it is Valvano's fitting legacy that he was not only a player, a coach or a broadcaster but, in the eyes of the Hall of Fame, a "contributor."
His Earliest Plea
Remembered for his one-liners, his sideline antics and his late-game coaching acumen, Valvano spent his life evoking emotions in his motivational speeches, as he did with his 1993 "Never Give Up" speeches at Reynolds and at the ESPN Espy Awards.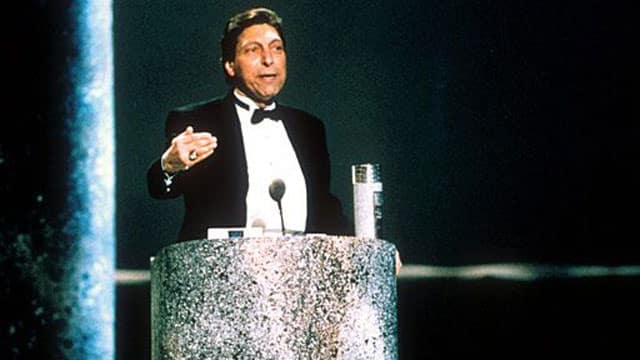 Those words were repeated by his middle daughter Jamie — a 1995 College of Education graduate who is both a middle school teacher and motivational speaker — when she recorded a message for Saturday night's Enshrinement ceremony.
"To me, there are three things we all should do every day," Valvano said. "We should do this every day of our lives. Number one is laugh. You should laugh every day. Number two is think. You should spend some time in thought. And number three is, you should have your emotions moved to tears, could be happiness or joy. But think about it. If you laugh, you think and you cry, that's a full day.
"That's a heck of a day."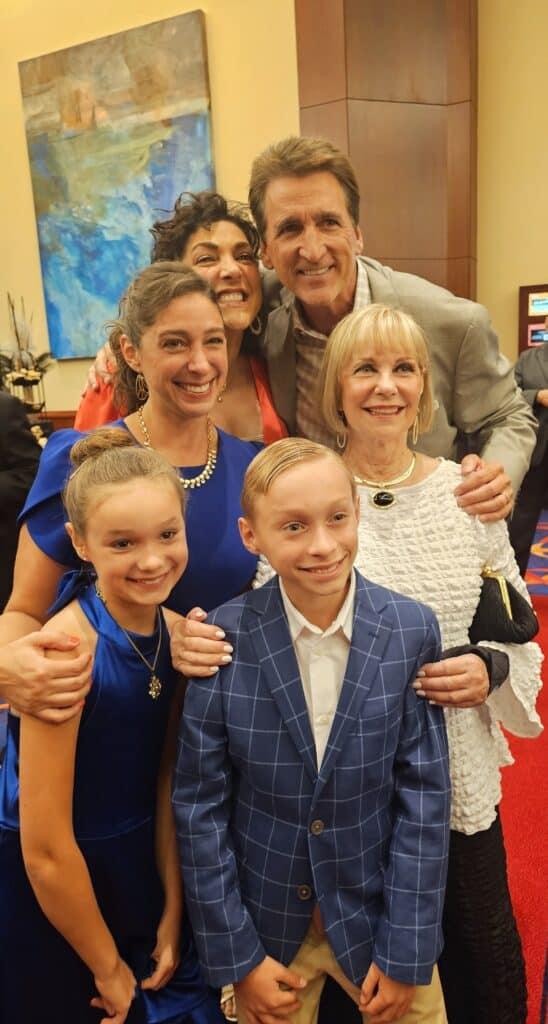 Valvano honed evocation skills early in his career. The following story is one he often told long before he got to NC State. He adapted something similar to tell his players during the Wolfpack's nine-game postseason run in 1983, when Valvano took the world by storm with everything from his wild stories to his dancing skills.
But much of it goes back to this story, told to the New York Daily News in 1978:
When I was an assistant basketball coach at the University of Connecticut, I thought I was a pretty big deal. I was "special people." One day, I got a letter from a 9-year-old asking for a basketball autographed by the UConn team. I ignored it.

I got a second letter, pleading for a ball, so I sent an autographed team picture, figuring that would keep the kid happy. A little while later, I met an alumnus who asked if I had received a letter from a kid named Jimmy. I told him I had and I had sent along a picture.

He asked me to visit the kid, to do a little more. He told me Jimmy had a form of leukemia and had spent the last four of his nine years in bed. I went, along with some of the players, and was amazed when I entered the kid's room. The walls were filled with pictures and press clippings of the Connecticut basketball team. We told Jimmy we would dedicate our next game to him and the kid beamed. His ambition in life was to play for UConn. We dedicated the game to him and played as hard as we had all year, but we lost. Some of the guys were crying after the game because they were disappointed to let Jimmy down.

I'd like to conclude the story with one of those lines like, "Today, Jimmy is an NBA star," but that's not the way it happened. Jimmy had surgery soon after [we took him the ball], and he died. His parents sent me a letter that I have memorized. They thanked me for making Jimmy's last few weeks on Earth the happiest in his life.

That was heavy, heavy stuff… Whenever I start thinking about how important I am, I start thinking about Jimmy. When we took that ball over to his house, the kid was so happy. We thought it was going to be a thing where we lost a day of work or of practice. We realized we hadn't lost anything at all.

We gained something.
And that's something Valvano wanted to leave behind when he ultimately succumbed to cancer on April 28, 1993, at the age of 47: the idea that basketball and athletics could do much to improve the lives of those in need.
"[Cancer research] may not save my life," Valvano said while accepting the inaugural Arthur Ashe Award for Courage, "but it may save my children's lives."
And it did.
Jamie Valvano — the NC State alumna who spoke on behalf of her two sisters, Nichole and Leanne, and her mother, Pam Valvano Strasser — was diagnosed with breast cancer at the age of 33, received advanced treatment and is still going strong nearly 20 years later as a motivational speaker in the mold of her father.
She summed up Saturday's festivities with these familiar words: "Thank you for making this a heck of a day for my family."
NC State Flavor
Valvano is the fourth NC State icon inducted into basketball's hall of fame, joining coaches Everett Case (1982) and Kay Yow (2004) and player David Thompson (1996).
In an un-Valvano-like understated fashion, Wolfpack basketball was a thread woven through much of the enshrinement ceremonies. Former player Sidney Lowe was mentioned in Pau Gasol's induction speech from their days together at the Memphis Grizzlies. The head of CBS Sports brought up Dereck Whittenburg while accepting a special award for the network's coverage of the NCAA Tournament. Vinny Del Negro, a native of Springfield, was there, beaming as a newly chosen member of the Hall of Fame's Board of Directors and as Valvano, his college coach, and Gregg Popovich, his NBA coach, were inducted.
"This is the culmination of a great process," said Del Negro, who was the Most Valuable Player of the 1987 ACC Championship. "This class and this weekend is an example of how basketball has been elevated worldwide because of the example of people like Coach Valvano and Coach Yow and the international players who came and played in the NBA.

"Every person has a unique journey, and those journeys are what we want to remember here."
Saturday afternoon, former chair and five-term member of the NC State Board of Trustees Peaches Blank and V Foundation fundraiser Becky Bumgardner were on hand to dedicate Yow's newly minted granite bench in the Coach's Circle at the entrance to the Hall, just next to the bench honoring Valvano, her former boss, co-worker and longtime friend. Former Wolfpack Women's All-America player Susan Yow, the younger sister of Kay and of former NC State athletics director Debbie Yow, spoke on her late sister's behalf and thanked several former Wolfpack players who were on hand.
"She would be very humbled and honored that people would still care to recognize her in this way," Susan Yow said about her older sister and three-time coach at Allen Jay High School, Elon College and NC State. "She couldn't have imagined it and would be grateful that she is still being remembered."
Wolfpack men's head coach Kevin Keatts, Wolfpack Club associate director Buzzy Correll and Whittenburg represented NC State athletics, soaking in the moment on behalf of the school.
"What an amazing thing for Pam and her daughters," Keatts said. "It's an amazing thing for basketball in general, the schools he represented and for NC State. More importantly, the platform he used to raise money to defeat cancer.
"This is his night, he deserves it and I'm blessed to have the opportunity just to be here."
As often was the case, Valvano was the center of attention for many.
"His legacy lives on," said John Doleva, president and CEO of the Naismith Memorial Hall of Fame, "and continues to save lives."
And the world continues to gain something.