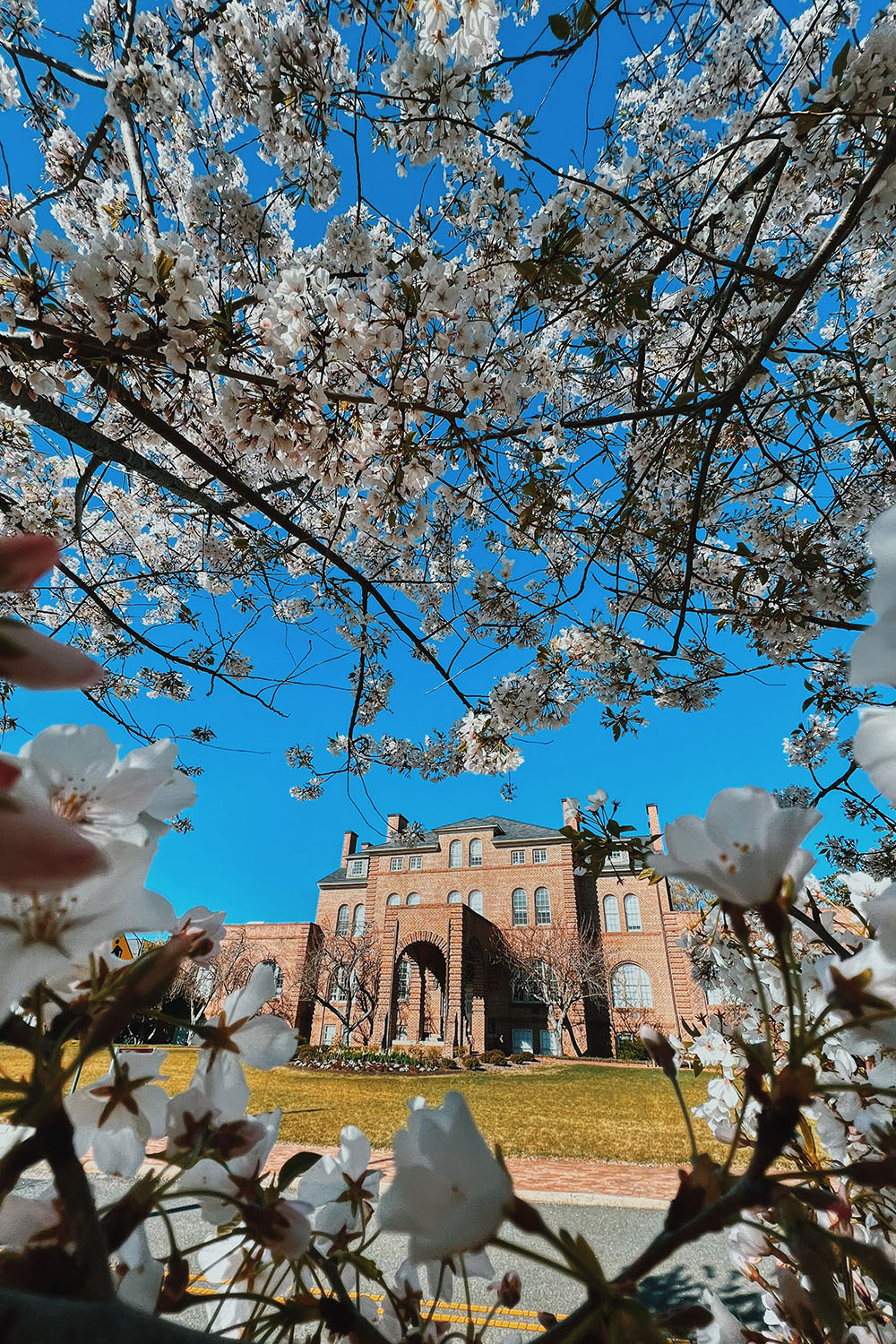 Campus Life
NC State Is Your Springboard
If you're considering joining our Wolfpack, there's no better season to explore NC State's flourishing campus.
Our university springs to life this time of year. With the sun sticking around longer each evening, students are shedding their coats, getting outdoors and spending more time soaking up everything NC State has to offer.
Studying on Stafford Commons. Learning by doing in greenhouses, 3D printing labs and art studios. Getting ready to turn their tassels at commencement. No matter how they're spending this semester, the Wolfpack lives out our Think and Do motto and finds bright ways to grow both academically and personally.
Calling all go-getters: If you're still searching for your perfect university home, we're waiting to welcome you, too. See what you could discover at NC State.
---
Explore a Blossoming Campus …
Nice to meet you. We're North Carolina's flagship STEM institution — and one of the top public universities in the U.S.
Between our flora-filled landscape and our leading rankings, one thing is clear: This university is officially in full bloom.
---
… With a Booming Hometown
We're the cornerstone of a bustling metropolitan area, Raleigh, North Carolina. It's a fast-growing city filled with bucket-list-topping eateries, ample lush greenery, headlining arts and culture, and a thriving tech economy.
Some of the biggest names in business — Apple, Google and FUJIFILM — have flocked to our hometown in recent years, and we're a major reason why.
After all, it pays to be next door to NC State talent; just ask the 70-plus partners based on our Centennial Campus and offering internships and on-the-job experience around the corner from your classes.
#3 Best Place for Business and Careers
Forbes
#10 Best Place for College Students To Live
WalletHub
$62,000+ Average Starting Salary
for NC State students who earned a bachelor's degree in May 2022
---
Study Differently
We believe learning shouldn't be limited to lecture halls. From rolling farmland to futuristic fabric labs, dynamic classrooms abound on our campus.
Here, you'll find classes you couldn't take anywhere else. The list below is just a sample of what you could explore.
An Introduction to the Honey Bee and Beekeeping
Aquacultural Engineering
Country Dance
Dinomania: Dinosaurs in Culture and Science
Earth from Space

Floral Desig

n
Flyfishing
Frauds and Mysteries of the Past
Global Agribusiness Management

Introduction to Entrepreneurship

Pickleball
Poisons, People and the Environment
Sports Analytics
Spy vs. Spy: Cold War Intelligence History
Sustainable Tourism
---
Choose Your Adventure
We focus on giving students a practical education that prepares them for anything. That means getting your hands dirty and venturing into the world to figure out what drives your passion.
Outside of day-to-day coursework, our students make waves at fashion shows, get a change of scenery abroad, earn funding for their own research projects and so much more.
---
Be Well and Thrive
Being part of a Wolfpack means caring for one another. Your health and well-being are vital to your success as an NC State student, and we offer wellness-related resources to support you mentally, physically and emotionally.
Whether you're getting homework help in our Academic Success Center, working out your worries in our 430,000-square-foot Carmichael Gym complex, or finding space to be your authentic self in an interest- or identity-focused community, we're here and eager to help you excel.
---
Join a Universe of Thinkers and Doers
What do NC State alumni do after graduation? Whatever they want.
Our grads spin off successful startups, teach others how to better our planet — and, sometimes, rocket off to explore beyond its atmosphere. No matter what may come next, an NC State degree is your launchpad.
Meet more inspiring NC State alumni:
---
Keep Up With Life at NC State
Last semester, we welcomed a record-breaking 5,601 first-year students. From Day One, they scouted out their own unique paths here — and made us proud every step of the way.
Imagine opening your red envelope, reading your acceptance letter and joining all of them on campus next year to write your own NC State story. Feels right, right? We'll be standing by to receive your application.
Much like a heaping scoop of our Howling Cow ice cream, life in the Wolfpack can be pretty sweet. If you want to get an insider's look at our campus day to day, follow along with @NCState on social media.
---